Gordon's Blog
Details

Created: 12 December 2015

12 December 2015

Last Updated: 12 December 2015

12 December 2015
The 2015 Annual Meal and Awards Night will be held at The Ship Inn, Tiptree, 7.00 for 7.30pm on Wednesday 13th January 2016
Details

Created: 08 December 2015

08 December 2015

Last Updated: 14 December 2015

14 December 2015
The last couple of club nights the members attending have hit the magic twenty, which is very encouraging. We must be doing something right !
We have a couple of new members joining, and one or two nice bikes have been acquired by existing members. This all bodes well for 2016.
Three of us braved the elements and had a ride out into the Suffolk countryside on Dec 8th just to keep the wheels turning. Just a bit damp!
We have an informal evening coming up at the Alma on Dec 22nd, and rumour has it, Colin may be buying, but this is unsubstantiated at the moment !
The annual dinner and awards evening has been well subscribed and will take place on January 13th at The Ship, Tiptree, and we look forward to seeing you there .
Judging the awards was quite difficult but the decisions have been made on merit for 2015.
We had a committee meeting after the November club night and a provisional program for bike runs and visits has been drawn up for 2016, and these may be subject to revision, as we are keen to avoid the section tradition of turning up to venues that are closed!
The club nights and lunches meetings are scheduled to take place as previously.
There will be a club night as usual, the first Wednesday in January, so see you there.

Gordon
Details

Created: 15 November 2015

15 November 2015

Last Updated: 15 November 2015

15 November 2015
On Wednesday 4th November 2015 a long term goal of The North Essex Section AMOC was met when we reached the magical number of 20 members attending Club Night. This was a long term goal of the late John Lay, our Secretary, who laid the foundations for bringing The Section numbers back up, after seeing them drop to single figures in recent years.
It was good to enlist Paul Barker, our 4th new member of 2015, which now brings our membership pool up to 26 - with an age range of 43 to 86.
Still very much the small group between the `East London and Essex Section` and the `East Suffolk Section`, we are moving in the right direction and grateful to the support being given.
Details

Created: 22 October 2015

22 October 2015

Last Updated: 22 October 2015

22 October 2015
The September lunch time meet at the Lamarsh Lion was not up to its usual standard this time and may be dropped from our list in the future. I have to say it was ok when I last visited it with the CVCVC bike section not so long ago.
Incidentally for those of you with an interest in cars as well as bikes I can recommend this club at £15pa. For a taster look up the website, Colne Valley Classic & Vintage Club. Some of us are already members of both.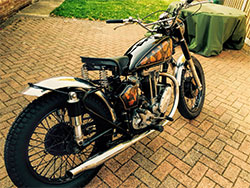 The latest Club night was well attended with some fifteen members attending and one new recruit, Jim Finigan with a very nice customised AJS.
We now have at least three retired and one active police officer in our section. My speculation is that they all choose AJS or Matchless machines so as not to get caught speeding!
Details

Created: 15 September 2015

15 September 2015

Last Updated: 22 October 2015

22 October 2015
The run scheduled for July 14th was to Stow Maries airfield, but, we discovered it was closed on that day, so a hastily arranged trip to the Combined Services Museum at Maldon proved just as disappointing as it was closed as well! However all was not lost as we revisited the L33 Zeppelin crash site at Lt Wigborough. Colin has found out a lot of what went on, and next year will be the 100th anniversary of this event. It will be interesting to hear more about a bit of local history.
We carried on to the very popular Ship Inn at Tiptree for a very enjoyable lunch. Colin and I made a trip to visit Russell in Saffron Walden by Porsche as the weather didn't look too good, and Russell and his wife Joan were pleased to see us. It was good to see him getting back to his old self, although he was struggling a bit with mobility. Never the less we may well see them for a visit at one of the coming club nights, even if it is a 70 mile round trip for them.
Details

Created: 11 July 2015

11 July 2015

Last Updated: 11 July 2015

11 July 2015
Several of us attended the Alma Classic Car and Bike show on May 25th, in a show of support for Derek, the landlord who looks after us very well all the year round. It coincided with his beer festival as well and one or two of us enjoyed some fine food and beer among a lovely collection of cars and bikes. The weather was good and it was a thoroughly enjoyable day. Star bike had to be the totally unrestored Triumph Tiger 100, sadly not a club member.
The following Tuesday was our annual get together with the East Suffolk Section and again we had glorious weather and a good turnout of bikes including one or two very unusual machines belonging to our members. I'm not sure we outnumbered them this time but it was a lovely evening and it was good to watch Julian's son Jake, doing his bit of work experience Abellio Greater Anglia Railways. It looked to me he was enjoying it far too much!
Details

Created: 26 May 2015

26 May 2015

Last Updated: 26 May 2015

26 May 2015
Sadly, we have been informed of the passing of Alf Salmon former leader of The North Essex Section AMOC.
The funeral will take place at Colchester Crematorium on Tuesday 2nd June at 1.15pm, followed by a wake at The Yew Tree, Great Horkesley.
Details

Created: 21 May 2015

21 May 2015

Last Updated: 11 July 2015

11 July 2015
A good turnout for our may club night at the Alma with several members from the Hadleigh Classic Bike club joining us for a natter.
The ride to the Whiskey Distillery was a good day out, with four of us making it, (very near to Snetterton) and Chris met us at the start, but had other commitments so just waved us off.
This bank Holiday weekend has lots going on , including the Sandlings run by the East Suffolk's,(see jampot for details, and of course on Monday , the Alma has its classic bike and car show. Please support it if you can, as they do look after us very well throughout the year.
On Tuesday26th there is an evening run by Jim and Eric starting at Washbrook Service Station, and then on Wednesday, the intersection meet at Manningtree Station Buffet, and then the lunch meet at Pentlow on Saturday 30th.
The next club night is June 6th and we will start with a short run at 7pm.
Details

Created: 08 May 2015

08 May 2015

Last Updated: 09 May 2015

09 May 2015
The first entry of section notes using our new website, northessexjampot.co.uk, and a hearty vote of thanks to Julian Smith, for getting it up and running.
The year started well with twenty five members and partners attending our annual dinner and presentation evening, at the Crown Wormingford. It was a lovely evening, once again organised by John, and a good time was had by all.
The Alan Jones cup went to John Walsh for his devotion to riding his Matchless to far away events, in the same spirit as the awards namesake.
The photo competition went to John Swann for his action shot of Guy Martin at Oliver's Mount. I think we all have a secret admiration for Guy Martin!
The Ralph Davis award went to John Lay for his unrivalled enthusiasm for running The Section.
The Reeve Family award went to me but I am not sure what for!
John summed up the year and announced that this would be his last year as Chairman.
Sadly, just a few days later, John was taken ill, working on rebuilding a G80, and died later that day.
It came as a shock to us all, and is sadly missed both by his family and ourselves in this Section.
Details

Created: 13 December 2014

13 December 2014

Last Updated: 13 April 2015

13 April 2015
Christmas is just around the corner and another year flown by. The section has had quite a busy year and all credit to John and Colin for keeping an eye on it all for us. The last couple of months have been quite busy and the weather has been kind, so despite low turnouts the rides have been extra enjoyable.
There was a good attendance at the Fox in Mersea for the September lunch meet, and we were able to attend, due to a change of plan. Some 13 of us sat down for the usual good fare. The November club night was well attended, with one or two bikes turning up, but no pre meeting run this time. There were 11 members in attendance, and a lot of nattering.
On Sunday 19th, five of us visited the London Motorcycle Museum and then the Ace Cafe for refreshment before making our way home. An excellent collection of bikes, some rare and not all totally authentic. But well worth a visit. It was a lovely day after a damp start and a thoroughly enjoyable ride. Thanks to Chris for that.
Details

Created: 02 October 2014

02 October 2014

Last Updated: 13 April 2015

13 April 2015
Our section has been busy over the last couple of months and I will try to make a note of them all.
The ladies lunch at the end of July was very good at the Donkey and Buskins, where some of us renewed our contact with Allan, the landlord, and he made it clear we would be made more than welcome should we wish to return.
The august club night was well attended, with sixteen present, and we welcomed a new member, Paul, who has just moved here from Hampshire, bringing a nice G9 with plenty of works history.
John Lay led four of us on a run into deepest Suffolk, stopping for lunch at the cafe near Highpoint Prison. I don't think there was any significance in the location but we were all driving carefully!
Eight bikes and one pillion passenger took the fish and chip run to Walton this year. It's a bit nearer than Aldeburgh, and gave the bikes a good run on some quicker roads. As usual the food was excellent and it was good to see Julian back with us again.