Gordon's Blog
Details

Created: 12 April 2016

12 April 2016

Last Updated: 12 April 2016

12 April 2016
We have managed to get some biking in , mostly avoiding the showers and the frosts, but we did suffer a bit of rain on the trip to the Suffolk Light Railway on the 4th. however the weather did improve and we had a lovely day. Colin will be making a full report. We managed to eight bikes and three cars on this event and I would like to thank all who took part for your support.Once again we had  a good turnout for the club night on the 6th,including one potential new member, so that cant be bad. Our next ride is with John Walsh into the depths of Essex around Burnham on Crouch, on tuesday April 19thwhich is an area we dont venture into a lot, and one which I particularly like.The next lunch meet is at the Pinkauh, Pentlow on Sat 30th April. Hope to see you at one or both. Gordon
Details

Created: 01 March 2016

01 March 2016

Last Updated: 13 March 2016

13 March 2016
Just a quick update. The Annual Dinner at the Ship went off well, and was enjoyed by all. The trophies all went to worthy winners. The annual run to the Victoria, took place as scheduled, even though it was a bit chilly, and we were made very welcome. The open fire has been replaced by a large wood burner, but otherwise little had changed and the food was good. The February clubnight was well attended,and preliminary arrangements were made for a run to visit Russel, should he be up to it.In the event we postponed the visit untill this month, and instead took a trip to Languard Fort at Felixstowe instead.Again a rather frosty morning, but we avoided any mishaps and had a look round the fort which was open because of half term.We enjoyed a spot of lunch outside in the sunshine, and concluded that we might make this regular visit on the calendar.The lunch meeting at the Cock and Bell went well, especially as I found we could get a £5 voucher off the internet! Recommended by George, it proved to be a popular choice and again may become a regular on our list. Clubnight coming up on the 2nd and we should be arranging a run out to Saffron Walden among other things.See you there Gordon
Details

Created: 18 January 2016

18 January 2016

Last Updated: 18 January 2016

18 January 2016
I have recently fitted an Indicator Warning device to my 250 Honda CBF. At only £4.75 including VAT, post and packing, this represents good value for a well engineered product. Installation instructions are easily understood by anyone with basic electrical knowledge. With bikes not having a common wiring code I would advise that advice be obtained from a person with the required  knowledge before connecting this excellent product. The unit I purchased came from  Azonic Solutions Ltd via ebay. With a decibel level that may seem high when stationary, this is ideal with the bike in use. As this product is so impressive, I have now ordered a 6 volt positive earth version to install on my 1960 Matchless G3L.
Colin Smith, Treasurer North Essex Section AMOC.
Details

Created: 07 January 2016

07 January 2016

Last Updated: 07 January 2016

07 January 2016
As you can see ,there was a record turnout for our informal meeting at the Alma just before Christmas, to say thank you to the Landlord and his staff for their hospitality throughout the year. There was some complaining about the ride in the rain earlier in December,particularly when there had been so many other nice days! The first club night of 2016 was once again well supported, with some twenty members and guests enjoying a pleasant evening,including a Christmas themed quiz from Colin.There were even some bikes! We had met the previous day to look at the seating arrangements for next weeks Dinner.and I was able to report the collection of the engraving for the trophies.We are looking forward to a good evening next week and I shall see you there.Finally, the first ride of the year has been confirmed as a trip to The Victoria, Earl Soham in Suffolk, leaving the Alma, Copford,January 19th, at 10-30. I hope to see some of you there. Safe Riding. Gordon
Details

Created: 31 December 2015

31 December 2015

Last Updated: 04 January 2016

04 January 2016
This annual informal event was introduced 4 years ago by our late Secretary John Lay in order to express our thanks for the welcome given to The Section during our monthly Club Nights held in The Alma. At this event, small token gifts are given to both Landlord Derek and also the Staff. For the first 3 years just the faithful 4 turned up.
However, last year these numbers increased to 9 plus 4 guests. Unbelievably, this year we had 18 members together with 2 guests, one of these even from Perth, Australia, although we expect he had other interests in the UK besides The North Essex AMOC Section! With 6 new members joining during 2015 our pool has now increased to 28, the highest number for several years.
We need to thank Paul Davis for his nights efforts - he got most of it right!!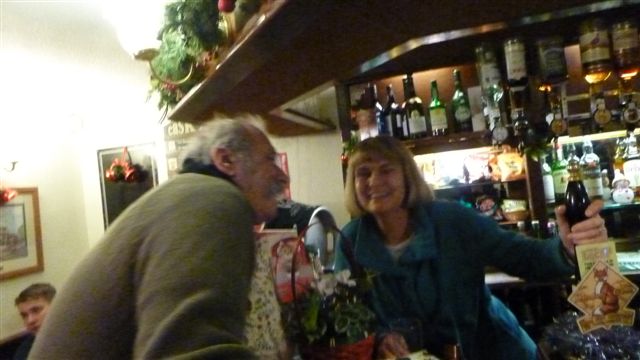 Paul Davis handing over gratuity at The Alma, December 2015
Details

Created: 17 December 2015

17 December 2015

Last Updated: 17 December 2015

17 December 2015
Our next function is the informal annual `Meet the Landlord and his staff` at The Alma, 7.30pm on Tuesday 22nd December. Just a chance to express our gratitude for the hospitality received by The Section during 2015. Paul Davis has kindly accepted responsibility for token offerings. Colin
Details

Created: 12 December 2015

12 December 2015

Last Updated: 31 December 2015

31 December 2015
Following many trials and tribulations, Gordon and Colin after much assistance from Julian, are able to place material on The North Essex Jampot website. We look forward to receiving suitable items especially from our younger members. The general public do not wish to hear about `old age and poverty`, `teeth falling out` etc. etc. but would rather read about members riding in The Pre 65 and trials etc.  If we can keep this site fresh and interesting it can only be of benefit to one and all. Looking forward to a deluge of suitable material,
Regards Gordon and Colin
Details

Created: 12 December 2015

12 December 2015

Last Updated: 14 December 2015

14 December 2015
The North Essex Section committee would like to express their thanks to you all for the support received during 2015. Following the sudden passing of our very popular secretary, John Lay, we are pleased to report that the possible demise of The Section did not happen, but rather we are ending the the year in a stronger position with six new members joining us during the year. This is a good showing for one of the smaller AMOC sections,and the committee would like to thank you all for helping to create the enjoyable atmosphere at the monthly club nights at the Alma, School Road, Copford, as well as the other activities during the year. We look forward to your continuing support. Colin, Gordon, Chris Mac, and John W.
Details

Created: 12 December 2015

12 December 2015

Last Updated: 12 December 2015

12 December 2015
The 2015 Annual Meal and Awards Night will be held at The Ship Inn, Tiptree, 7.00 for 7.30pm on Wednesday 13th January 2016
Details

Created: 08 December 2015

08 December 2015

Last Updated: 14 December 2015

14 December 2015
The last couple of club nights the members attending have hit the magic twenty, which is very encouraging. We must be doing something right !
We have a couple of new members joining, and one or two nice bikes have been acquired by existing members. This all bodes well for 2016.
Three of us braved the elements and had a ride out into the Suffolk countryside on Dec 8th just to keep the wheels turning. Just a bit damp!
We have an informal evening coming up at the Alma on Dec 22nd, and rumour has it, Colin may be buying, but this is unsubstantiated at the moment !
The annual dinner and awards evening has been well subscribed and will take place on January 13th at The Ship, Tiptree, and we look forward to seeing you there .
Judging the awards was quite difficult but the decisions have been made on merit for 2015.
We had a committee meeting after the November club night and a provisional program for bike runs and visits has been drawn up for 2016, and these may be subject to revision, as we are keen to avoid the section tradition of turning up to venues that are closed!
The club nights and lunches meetings are scheduled to take place as previously.
There will be a club night as usual, the first Wednesday in January, so see you there.

Gordon
Details

Created: 15 November 2015

15 November 2015

Last Updated: 15 November 2015

15 November 2015
On Wednesday 4th November 2015 a long term goal of The North Essex Section AMOC was met when we reached the magical number of 20 members attending Club Night. This was a long term goal of the late John Lay, our Secretary, who laid the foundations for bringing The Section numbers back up, after seeing them drop to single figures in recent years.
It was good to enlist Paul Barker, our 4th new member of 2015, which now brings our membership pool up to 26 - with an age range of 43 to 86.
Still very much the small group between the `East London and Essex Section` and the `East Suffolk Section`, we are moving in the right direction and grateful to the support being given.