Good to see you all at last night's club night. The new landlord at the Alma made us very welcome arranging the space for us, and even buying a club T-shirt,as well as making a donation to the club funds. Let's hope we can keep supporting him in return. About 28 of us heard Colin run through the October events, and the other parish notices. There were even some bikes in the car park!
We managed one ride out to Pin Mill, and the off-roaders had a day out and Vic rode at the Marks Tey Pre-65 scramble, and recieved an award for attending all the rounds, so well done. Paul also distributed the latest clothing order, and kindly delivered mine as I left it behind!
This month's runs will be daytime runs, leaving the Alma at 10.30am - weather permitting. I don't mind a bit of rain but I'm not so keen on frost and snow! If it looks like bad weather, contact me for information. On the 12th we will finish up at the cafe in Great Yeldham, just up the Toppesfield road, and on the 26th, we should finish up at Wrentham for lunch, after a quick visit to Lowestoft. Steve will organise an off-road event if enough of you let him know you would take part.
Just a couple of notices. Please bring along your photographs to enter the photo competition to the next Club night. And if you are coming to the awards evening dinner, provisionally scheduled for January 15th 2020, please let us know asap, so we can negotiate a good deal!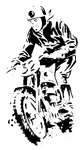 As you all know, we have been pubilicising this Pre-65 race series in our up coming events, because one of members, has been taking part, Julian Smith. Now I know one or two of you have been along to help with marshalling and by all the feedback, it sounded to me like a good day out, so I thought I should go along. The last time I attended a scramble was back in the days of Saturday Grandstand, with the likes of Jeff Smith, Vic Eastwood, Dave Bickers etc, and I remember being quite put out as we had to wait about for the races to fit in with the BBC. How things have changed!