Another good turnout for our club night with a car park full of bikes. I counted 25 and Im sure several more more had called in for a chat. About 9 of us accompanied Paul back to Treasure Island as he forgot to bring the free bike papers, and we gained two more in Mersea as we left the Alma a bit earlier than we should! 26 members and four guests at the meeting. We now have over 40 members on the books to keep us busy. Colin went through the club business as usual. We also had a chat with the new landlord and he is quite happy for us to continue to meet at the Alma which is good news.
Three members attended the Jampot Rally, and Steve picked up a rossette for his bike. George and I had an opportunity to go to the Moto GP that weekend so decided that was the better than going to the rally, so we went there and back, Saturday and Sunday, on two of the hottest days of the year.
Seven of us set out for the ride into Suffolk, and despite getting split up, had a good ride to Crown Street Motors, Lowestoft. Julian took a group of ten on a lovely evening ride around the lanes and finished at the Whalebone ,Finginghoe. Proving that you dont need to go too far to enjoy some good roads
We had a record number of motorcyclists at our August clubnight and we signed up a couple of new members which is always encouraging. Some very tasty motorcycles in the car park. A dozen or so riders had a quick blast around the Essex countryside before the meeting. The drop off system worked a treat as everyone followed the rules!
Colin did a quick run through the events of July which I covered in the last blog, and its good to see that most events are still well supported. The presentation to Bernie made the Jampot Magazine but they couldnt help themselves and managed to edit it! I did manage to get the Section Notes in but its a real uphill task.
This month I will be leading a run into Suffolk, which always has proved popular, as there are several places to visit along the way, including Cakefield Classics, Dragonfly, Crown Street Motors, and of course Stephanie's Cafe! That's Thursday August 15th leaving the Alma at 10am so we can fit it all in.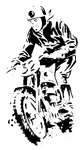 As you all know, we have been pubilicising this Pre-65 race series in our up coming events, because one of members, has been taking part, Julian Smith. Now I know one or two of you have been along to help with marshalling and by all the feedback, it sounded to me like a good day out, so I thought I should go along. The last time I attended a scramble was back in the days of Saturday Grandstand, with the likes of Jeff Smith, Vic Eastwood, Dave Bickers etc, and I remember being quite put out as we had to wait about for the races to fit in with the BBC. How things have changed!