Just a quick update about club activities, or rather, the lack of club activities. You will have seen from Colins latest e-mail, there have been lots of requests for a club ride. While it's a lovely idea, the reality is that organising rides, even for just a few people, isn't really possible under the current restrictions. In addition, recoveries from breakdowns would appear to be an issue, the bike being repatriated, but not the rider, and if you were have an accident, your safety from the virus would be taken completely out of your hands. Like all of you, I am itching to get out on a bike, but I dont think its worth the risk.
You may have noticed that all the fuss about travelling to work by government has not mentioned motorcycles once. The BMF are on the case. I guess most politicians would never have sat on a motorbike, yet alone have used one to get to work. You just need to look at the people travellng on public transport recently to realise that cycling for more than five minutes would be out of the question for most of them. And Transport for London are reintroducing the congestion charge. Cashing in on the situation? You decide! Keep safe and if you can for the moment, stay at home. Gordon. PS And of course continue with your stories to Colin.
This Wednesday, 6th May, would have been our clubnight at the Alma. Spare a thought for the Landlord who had not had an easy time of it before all this happened. I have managed to resist taking a bike or a car for a ride, despite the almost continuous traffic past our house. We have managed to avoid going anywhere except for walks across the near by fields. I hope you have all be doing the same. It's not clear what the next few weeks will hold, but as a former scientist, I won't be going anywhere until there is a proven vaccine available. The idea that it will suddenly become safe to return to anything like normality in the short term is way off the mark.
This week we should have been going to the Isle of Man, albeit with the Porsche Club, and I was looking forward to the two scheduled early dawn drives around the circuit. So far I've only seen 120 mph on trackdays, and was looking forward to seeing if it would reach 146 mph, the top speed recorded in 1977. I've never been to the Isle of Man and it looks like next year now. I know one or two of you are also going to miss the TT as well. Who could have known? I shall also be missing the Le Mans 24hrs in June, and it's not likely that we will all be able to get together for the rescheduled event. I had got the Moto GP on my wish list as well. George and I had an interesting weekend last year.
My old BMW will come under the MOT amnesty this month, the BSA doesn't need one, although I usually have it done, and one of the cars falls in June. We would have been well into our riding programme by now, especially with all the lovely weather, not to mention the price of petrol. George has suggested that we use my air raid shelter for club nights, but social distancing would prove a bit difficult, especially on the stairs! Not to mention the beer consumption. I've avoided any more disasters with the paddock stand by riding the Varadero round in circles on my drive. When my children were younger they each had a 50cc motorcycle and we had a circuit around the garden, which was very popular with them and with visitors. They all learned about brakes, helmets, and how to avoid bushes! some visiting children had a steep learning curve. And it didnt do much for the lawn!
I'm pleased to see you are all making the effort to deliver some drivel to Colin for his daily reports. I have to say that some of the stories and photos are worthy of a better title than drivel. Some will im sure generate a degree of flack when we do meet up again. Keep sending them in, otherwise he will start making stuff up, and we dont want that. Gordon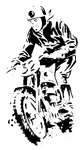 As you all know, we have been pubilicising this Pre-65 race series in our up coming events, because one of members, has been taking part, Julian Smith. Now I know one or two of you have been along to help with marshalling and by all the feedback, it sounded to me like a good day out, so I thought I should go along. The last time I attended a scramble was back in the days of Saturday Grandstand, with the likes of Jeff Smith, Vic Eastwood, Dave Bickers etc, and I remember being quite put out as we had to wait about for the races to fit in with the BBC. How things have changed!