Gordon's Blog
Created: 10 April 2017

10 April 2017

Last Updated: 21 April 2017

21 April 2017
The section riding trips finally made a start in March, with a successful trip to the Victoria, which had been postponed a couple of times because of the weather, and also to Duxford. Thanks to Kevin and Peter we had the chance to witness a classic car auction as well as looking a some of the museum exhibits. Another trip will have to be made to do the Museum justice.
There are lots of events lined up in the next few weeks and details can be found in the Events section. We are getting record numbers both for our club nights and the ride outs and Colin and I would like to thank you all for you support. Anyone with any ideas for runs, or events you think we could attend do let us know. In the mean time we hope to carry on in the same vein and hope to see you at some of them. Safe riding Gordon
Created: 07 March 2017

07 March 2017

Last Updated: 07 March 2017

07 March 2017
Please note that the Lunch Meet is now on April 1st at the Wooden Fender Ardleigh, to avoid the Mothers Day weekend . 
Created: 02 March 2017

02 March 2017

Last Updated: 12 March 2017

12 March 2017
Good to see such a good turnout last night despite the weather, and better still, some brave souls on bikes. The evenings briefings were kept as short as possible, and it was good to see contributions from both Phil and Julian bringing a bit more excitement to the proceedings. Good to see Phil back on his feet and we hope to see him back on a bike before too long.
The bike rides have not got off to a good start this year, mainly because of the weather and it's not worth taking unnessesary risks. However during the discussions last night, we have two rides confirmed for March and the information is available in the events page. I apologise for putting one up twice, operator error!
Created: 09 February 2017

09 February 2017

Last Updated: 09 February 2017

09 February 2017
PS Kevin very kindly sent a calender to Russell and it was very well received. Colin and I will hopefully pay a visit once the warmer weather gets here. 
Created: 08 February 2017

08 February 2017

Last Updated: 11 February 2017

11 February 2017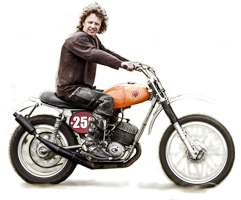 A good turnout for the February club night, and a chance to present the Allan Jones Trophy to Julian Smith for his outstanding season in the pre 1965 scramble series. This year, Steve Toy is going to have a go so there is a lot of section interest so do try and get along to some of the local events. Vic was reunited with the Photographic award, now sporting his name for 2016.
The weather forecasts have disrupted the planned ride to the Victoria, and I'm afraid the planned ride on the 10th has had to be called off, as I'm not keen on riding in snow. There was some mirth as I described my breakdown at the Alma, having turned up just in case anyone had missed the cancellation. The lad from the RAC did a good job getting it going. And I must thank Dereck for his hospitality while I waited.
Created: 20 January 2017

20 January 2017

Last Updated: 21 January 2017

21 January 2017
The new year is upon us and the presentation evening is over. From the response we have had , it would appear that the evening went down well and that the venue was very good , despite some misgivings before hand. Indeed it looks like we may well return next year as everyone liked the food, and the atmosphere.
The award winners were all well deserved and quite easy to nominate for a change. Vic did well winning the photography award as well as that for the most impressive journey of the year. Julian had a good year with his scrambling results , but this year could be different as Steve is about to join him with his recently purchased Metisse.
As I write the weather has been good to us in the daytime while a chilly at night. I am hoping it will hold out for our trip to the Victoria next week.
Created: 11 December 2016

11 December 2016

Last Updated: 30 December 2016

30 December 2016
It's been a busy few weeks for our section, tinged with some sadness at the news of the sudden loss of Bill Bullen. Several of us attended his funeral, some on bikes, and he will be missed by us all. The fact that we never knew what bike he would be on next time we saw him will be one of my lasting memories.
The November club night quiz proved to be popular and thanks to John Walsh for arranging it. Could it become a regular event?
We have had a few rides including a trip to Gt Yeldham for the trophy engraving, and another to Landguard Point, Felixstowe.  We have a ride to Lowestoft on Thursday 15th December, weather permitting. I hope to do the annual winter run to The Victoria towards the end of January, a date yet to be decided.
Created: 27 October 2016

27 October 2016

Last Updated: 26 January 2017

26 January 2017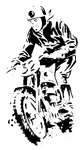 As you all know, we have been pubilicising this Pre-65 race series in our up coming events, because one of members, has been taking part, Julian Smith. Now I know one or two of you have been along to help with marshalling and by all the feedback, it sounded to me like a good day out, so I thought I should go along. The last time I attended a scramble was back in the days of Saturday Grandstand, with the likes of Jeff Smith, Vic Eastwood, Dave Bickers etc, and I remember being quite put out as we had to wait about for the races to fit in with the BBC. How things have changed!
Created: 20 October 2016

20 October 2016

Last Updated: 02 November 2016

02 November 2016
October  20th 2016
William (Bill) Bullen
It is with deep regret that we report the passing of Section Member Bill Bullen who joined up with us during October 2012. Sadly Bill never recovered from an operation involving Heart surgery. A popular member who was always pleasant to speak with and will be remembered for his large collection of motorcycles, meaning we were never sure which machine he would be riding on the occasions he was able to join in with us. Bill also introduced a close friend Brian Irwin into The Section who has also become involved with us.
As yet no funeral details are known but these will be published once the information is available.
Our deepest sympathy goes out to the family together with any help if required.
Colin Smith, Treasurer North Essex Section of the AMOC.
Created: 18 October 2016

18 October 2016

Last Updated: 02 November 2016

02 November 2016
Our club nights are getting to be quite popular with both members and guests and its good to see you all.  Those of you that didnt make it would have seen Colins excellent coverage by e-mail. The september one was the last with a pre-meeting ride out until next year as its not all that comfortable doing country lanes in the dark.
I missed a few bits in september but again, Colins e-mails will have kept you up to date. There is a lot coming up, including a ride out from the Alma later today. Our last club night was so well attended we took over a large part of the Alma, and it was a good chance to ask Dereck, the landlord about our next club night on November 2nd, which is a Quiz night organised by John Walsh. We have been allocated the large dining area so we are hoping for a good turnout.
Created: 04 August 2016

04 August 2016

Last Updated: 04 August 2016

04 August 2016
It's been a busy few weeks for our section, and I must start by apologising for a senior moment which resulted in me forgetting the June lunchtime meet. However I did manage to get to a few other of the events in July. The club night was well attended and several of us did a short ride around before hand. One or two of you also managed to sort a bike out for Gabby. The speedo drive saga was finally laid to rest (until the next time). We also managed a ride out to Shotley Marina, (expensive sandwiches), and John Walsh took us to Andy Tiernans, where we were made very welcome, and then on to Parham Airfield Museum. Definitley worth another visit, but no food available, just tea and snacks. That evening I took the Hadleigh club on another ride just to keep my hand in. We had another meeting with the Suffolk section at Manningtree station, with some ten bikes from our section on display, led by Phil. The Maldon Club BBQ attracted a few of us, but I had a clashing bike show at CVCVC Great Yeldham, so missed a good evening according to those who did go.