Gordon's Blog
Created: 12 October 2017

12 October 2017

Last Updated: 07 November 2017

07 November 2017
September rides were a bit thin on the ground. John Walsh had to give up on revisiting the East London section on neutral ground as they didnt appear interested. We did have a ride into Suffolk finishing at the cafe at Great Yeldham which appeared to be thriving under new management. Over lunch there was some discussion about the trip to the National Motorcycle Museum. It was left that this would be discussed at the October club night. Not quite so many at the club night, several of us enjoying ourselves elsewhere. It looks like a few of us will be leaving the Alma at 7am on the 17th on bikes and some will be going by car. I will take a nostalgia run into suffolk on the 31st visiting my birthplace and a garage owner who was the second of the four owners of my Road Rocket.
The Pre65 section had a couple of meetings with our regular participants, Julian and Vic, supported by Colin and Steve. Colin attended the Air ambulance run on our behalf, and we continue to support this worthy cause all the year.He also attended the Copdock Show and got a new recruit.
Kevin is getting a Calendar together for next year and is looking for Photos. Last years is now a collectors item!
The lunch meeting is on the 28th at the Pikau Arms, and the clubnight is november 1st. I hope to see you there Gordon
Created: 11 September 2017

11 September 2017

Last Updated: 12 September 2017

12 September 2017
Despite the absence of several regulars, the September club night was well attended with 20 members and one guest. Phil led seven bikes out on the pre-meeting run on his recently acquired Honda Deauville, and a further five bikes turned up for the meeting - another good turnout. We welcomed a new member, Ray Miles and his 650 AJS. Colin brought us all up to date with the august events.
Julian's ride into the Dengie Peninsula was well attended with nine members and two guests enjoying a ride into unknown territory. It did highlight the need to prime everyone for the ride home as Vic and his guest went back to Harwich via Mersea!
Steve Toy paid Russel a visit, and later in the week five members went along to see him as well. George got the bike running again, and Paul gave it a bit of a run as well. Joan looked after them all as usual and anyone wanting to visit in September would be welcome, but do consult Colin first.
Created: 03 August 2017

03 August 2017

Last Updated: 09 August 2017

09 August 2017
Despite the weather forecast we had a good turnout for the August club night with 19 members attending. It was good to see Gabby again, and with one or two regulars missing it was good to see you all. Vic was the only one on a bike, and as it turned out the rest of the evening was dry. That did mean the usual short ride out was abandoned and I do apologise. Best to ignore the forecast in future.
We had a busy July, starting with a tour of the Tendring peninsula, thanks to John Swan and his extensive local knowledge. I travelled roads I had not seen before, and we even made it to Jaywick. Five of us enjoyed our lunch on Clacton sea front.
Six members attended the Maldon club BBQ, which was up to scratch as usual. Several of us belong to the Colne Valley Classic Vehicle club, and the BBQ clashes with our annual bike show so we are torn between the two events.
Created: 06 July 2017

06 July 2017

Last Updated: 10 July 2017

10 July 2017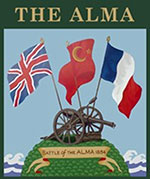 Once again we had a very good turnout for our July club night at the Alma and nine of us had a nice ride around the local Essex countryside for about an hour before the meeting. We were lucky enough with the weather to conduct our meeting in the garden outside, and Colin and I did our best to keep you all up to date with the club business.
We had a very active riding programme for June, starting with John Swans trip into the depths of Norfolk, and once again after a nice lunch by the green in Diss, we ventured into the wonderful scrapyard hidden away in an housing estate , just down the road. This has to be seen and there is so much stuff there is bound to be something there that you need!
Created: 09 June 2017

09 June 2017

Last Updated: 10 July 2017

10 July 2017
The June 7th club night was well attended with over twenty members, and half a dozen took part in the pre meeting ride around the back roads of Essex after a slight delay for refuelling!
The section had a busy May, and one or two of us who belong to both clubs ,joined the Hadleigh Club ride from the Queens Head, Lower Layham, to the Alma on the 15th.
Our evening run scheduled for the 17th, was postponed because of the rain until the next day, which turned out to be worse. Colin, George and I turned up and were able to organise ourselves for a trip the next day to get Russell's bike going after three years standing.
Thanks to some hard work by all of us we had it running before lunch, and afterwards, a carburettor clean, resulted in the bike starting and running quite well.
Created: 05 June 2017

05 June 2017

Last Updated: 05 June 2017

05 June 2017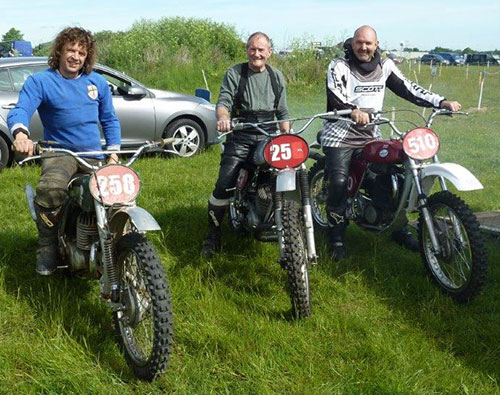 History was made late last month when The North Essex Section AMOC had 3 riders entering.
258 has Julian Smith astride a 1967 360 Greeves Challenger, 25 has Vic Sayers - 1972 410 AJS Stormer 510 has Steve Toy - 1969 380 Greeves Griffon.
Vic Sayers returned to the track after a 28 year break but had to share Julian`s Greeves after the recently rebuilt AJS developed problems. Sadly this bike also developed clutch trouble during the meeting, leaving just Steve to enjoy the support of several North Essex Section members present. Steve took a heavy tumble in his last race but being a tough guy is sure to be back.
Vic had good support from family and friends who came down from the Romford area. Hopefully they enjoyed the day as did those who attend regularly.
Colin Smith, Treasurer North Essex Section AJS and Matchless Owners Club
Created: 04 May 2017

04 May 2017

Last Updated: 06 May 2017

06 May 2017
I'm sorry but I forgot to mention the Alma is holding its annual Beer Festival at the end of the month Starting on Thursday 25th May and it finishes with a classic car and bike show on Monday 29th. We usually have several of our bikes turn up on the day and its a nice way of supporting Derick, our landlord who looks after us so well throughout the year. Do come along if you can, there are usually some nice cars and bikes to see.
Created: 04 May 2017

04 May 2017

Last Updated: 06 May 2017

06 May 2017
Once again we had a good turnout for our two rides in April, the first, Mersea Myths, a trip to the excellent Fish and chip shop in Mersea, organised by Colin, it was meant to show that not everyone on Mersea Island had plenty of money, but the general opinion was that the trip did nothing to dispel the rumour! There is a video on the site for those who missed the trip.
The second, to the David Silver Honda Museum in Leiston, was equally well attended. Organised by John Swann it was an excellent day out and the museum is really worth a visit. With some 150 bikes on display starting in the fifties and up to the Fireblade a really amazing display. Lunch in the shadow of the Sizewell Power Station went down well.
Created: 24 April 2017

24 April 2017

Last Updated: 24 April 2017

24 April 2017
Created: 10 April 2017

10 April 2017

Last Updated: 21 April 2017

21 April 2017
The section riding trips finally made a start in March, with a successful trip to the Victoria, which had been postponed a couple of times because of the weather, and also to Duxford. Thanks to Kevin and Peter we had the chance to witness a classic car auction as well as looking a some of the museum exhibits. Another trip will have to be made to do the Museum justice.
There are lots of events lined up in the next few weeks and details can be found in the Events section. We are getting record numbers both for our club nights and the ride outs and Colin and I would like to thank you all for you support. Anyone with any ideas for runs, or events you think we could attend do let us know. In the mean time we hope to carry on in the same vein and hope to see you at some of them. Safe riding Gordon
Created: 07 March 2017

07 March 2017

Last Updated: 07 March 2017

07 March 2017
Please note that the Lunch Meet is now on April 1st at the Wooden Fender Ardleigh, to avoid the Mothers Day weekend .