Gordon's Blog
Created: 29 December 2017

29 December 2017

Last Updated: 05 January 2018

05 January 2018
Our December club night was well attended, with 18 members attending, a few apologies, and five on bikes. Kevin brought along calendars and they were well recieved, with Paul being responsible for sales. Kevin also brought along his Dad,who normally prefers to be playing crib on our club nights, and his dog, who had no choice. George was busy collecting payment for the Presentation Dinner on January 10th. It's still not too late to join us!
We had a good turnout for the 20th to thank Dereck and his staff for his hospitality throughout the year. Pleased to see him on the mend. The mincepies and the prospect of Colin buying everyone a drink obviously worked.
Created: 29 December 2017

29 December 2017

Last Updated: 05 January 2018

05 January 2018
Weekday Rides - Only suggestions, and not necessarily in this order.
Visit Victoria in January
Merlin Engine run
Longshop Museum/Honda Museum
Stow Maries Airfield
Granary Museum/Museum of East Anglian Life
Landguard Point
Great Yeldham cafe
Pinn Mill/Shotley Marina
Lowestoft/Bungay/Flixton
Diss/Scrapyard/Bressingham
Dengie Peninsula/Burnham on Crouch
Created: 27 November 2017

27 November 2017

Last Updated: 08 December 2017

08 December 2017
Our ride to Languard Point was well attended and after a devious route, we were met there by Jim, just a short ride from Ipswich, and Rob and family. This is a popular venue and some of us more hardy souls had to sit outside!
Our lunch meeting this month had a low turnout for various reasons, but we were able to book the New Times, Tiptree for our annual Dinner and Presentation evening on Wednesday January 10th. 7pm for 7-30. The price has been held from last year, £20 per head for 3 courses, including tips. George has kindly agreed to collect the money before hand, preferably cash, and can be contacted on 01206243662, or . Please let us know as soon as possible if you are coming.
Created: 02 November 2017

02 November 2017

Last Updated: 07 November 2017

07 November 2017
Last night we had a good turnout at the Alma, with 15 members, nine of which turned up on bikes, including a combination. We discussed the clubs upcoming events in the next couple of months and an enjoyable evening was had by all.
The October club night was a bit down on numbers, but here was some discussion about the museum trip and it was decided that those who wanted to go should make their own arrangements and meet there. In the event, seven of us made it to the National Motor Cycle Museum, with three intrepid riders, and a car full from Mersea. Claiming to have left Mersea at the same time we left the Alma, how did they get there before us? Anyway it was well worth the trip and could become a regular visit.
Created: 18 October 2017

18 October 2017

Last Updated: 18 October 2017

18 October 2017
I am having to change the date of my run into Suffolk to Monday 30th October. Sorry about that. Meet at the Alma at 10am Gordon
Created: 12 October 2017

12 October 2017

Last Updated: 07 November 2017

07 November 2017
September rides were a bit thin on the ground. John Walsh had to give up on revisiting the East London section on neutral ground as they didnt appear interested. We did have a ride into Suffolk finishing at the cafe at Great Yeldham which appeared to be thriving under new management. Over lunch there was some discussion about the trip to the National Motorcycle Museum. It was left that this would be discussed at the October club night. Not quite so many at the club night, several of us enjoying ourselves elsewhere. It looks like a few of us will be leaving the Alma at 7am on the 17th on bikes and some will be going by car. I will take a nostalgia run into suffolk on the 31st visiting my birthplace and a garage owner who was the second of the four owners of my Road Rocket.
The Pre65 section had a couple of meetings with our regular participants, Julian and Vic, supported by Colin and Steve. Colin attended the Air ambulance run on our behalf, and we continue to support this worthy cause all the year.He also attended the Copdock Show and got a new recruit.
Kevin is getting a Calendar together for next year and is looking for Photos. Last years is now a collectors item!
The lunch meeting is on the 28th at the Pikau Arms, and the clubnight is november 1st. I hope to see you there Gordon
Created: 11 September 2017

11 September 2017

Last Updated: 12 September 2017

12 September 2017
Despite the absence of several regulars, the September club night was well attended with 20 members and one guest. Phil led seven bikes out on the pre-meeting run on his recently acquired Honda Deauville, and a further five bikes turned up for the meeting - another good turnout. We welcomed a new member, Ray Miles and his 650 AJS. Colin brought us all up to date with the august events.
Julian's ride into the Dengie Peninsula was well attended with nine members and two guests enjoying a ride into unknown territory. It did highlight the need to prime everyone for the ride home as Vic and his guest went back to Harwich via Mersea!
Steve Toy paid Russel a visit, and later in the week five members went along to see him as well. George got the bike running again, and Paul gave it a bit of a run as well. Joan looked after them all as usual and anyone wanting to visit in September would be welcome, but do consult Colin first.
Created: 03 August 2017

03 August 2017

Last Updated: 09 August 2017

09 August 2017
Despite the weather forecast we had a good turnout for the August club night with 19 members attending. It was good to see Gabby again, and with one or two regulars missing it was good to see you all. Vic was the only one on a bike, and as it turned out the rest of the evening was dry. That did mean the usual short ride out was abandoned and I do apologise. Best to ignore the forecast in future.
We had a busy July, starting with a tour of the Tendring peninsula, thanks to John Swan and his extensive local knowledge. I travelled roads I had not seen before, and we even made it to Jaywick. Five of us enjoyed our lunch on Clacton sea front.
Six members attended the Maldon club BBQ, which was up to scratch as usual. Several of us belong to the Colne Valley Classic Vehicle club, and the BBQ clashes with our annual bike show so we are torn between the two events.
Created: 06 July 2017

06 July 2017

Last Updated: 10 July 2017

10 July 2017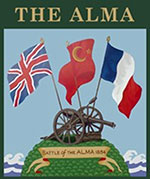 Once again we had a very good turnout for our July club night at the Alma and nine of us had a nice ride around the local Essex countryside for about an hour before the meeting. We were lucky enough with the weather to conduct our meeting in the garden outside, and Colin and I did our best to keep you all up to date with the club business.
We had a very active riding programme for June, starting with John Swans trip into the depths of Norfolk, and once again after a nice lunch by the green in Diss, we ventured into the wonderful scrapyard hidden away in an housing estate , just down the road. This has to be seen and there is so much stuff there is bound to be something there that you need!
Created: 09 June 2017

09 June 2017

Last Updated: 10 July 2017

10 July 2017
The June 7th club night was well attended with over twenty members, and half a dozen took part in the pre meeting ride around the back roads of Essex after a slight delay for refuelling!
The section had a busy May, and one or two of us who belong to both clubs ,joined the Hadleigh Club ride from the Queens Head, Lower Layham, to the Alma on the 15th.
Our evening run scheduled for the 17th, was postponed because of the rain until the next day, which turned out to be worse. Colin, George and I turned up and were able to organise ourselves for a trip the next day to get Russell's bike going after three years standing.
Thanks to some hard work by all of us we had it running before lunch, and afterwards, a carburettor clean, resulted in the bike starting and running quite well.
Created: 05 June 2017

05 June 2017

Last Updated: 05 June 2017

05 June 2017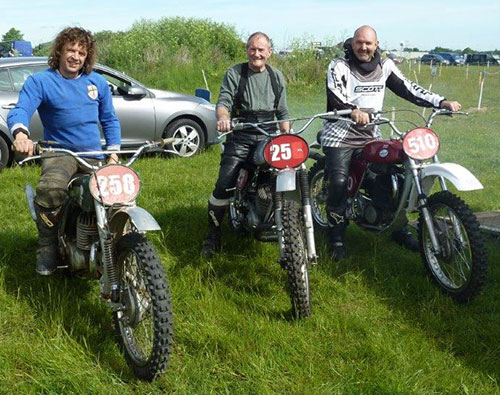 History was made late last month when The North Essex Section AMOC had 3 riders entering.
258 has Julian Smith astride a 1967 360 Greeves Challenger, 25 has Vic Sayers - 1972 410 AJS Stormer 510 has Steve Toy - 1969 380 Greeves Griffon.
Vic Sayers returned to the track after a 28 year break but had to share Julian`s Greeves after the recently rebuilt AJS developed problems. Sadly this bike also developed clutch trouble during the meeting, leaving just Steve to enjoy the support of several North Essex Section members present. Steve took a heavy tumble in his last race but being a tough guy is sure to be back.
Vic had good support from family and friends who came down from the Romford area. Hopefully they enjoyed the day as did those who attend regularly.
Colin Smith, Treasurer North Essex Section AJS and Matchless Owners Club