Unfortunately the relaxing of the rules hasn't come in time for our July clubnight. However, David, the Landlord at the Alma, has completely revamped the Alma in anticipation of the new rules so that his customers will be able to have a drink while remaining in a safe environment. You can see what he has been up to at the Gazette. https://www.gazette-news.co.uk/news/1854020.alma-pub-copford-transforms-car-park-beer-garden. We are hoping to have a meeting with David in the next couple of weeks to see what we can do. It would be good if we could hold our club night on Wednesday August 5th. We may need your help to get an idea of the numbers of members who would be likely to attend, so watch out for Colins e mails in the next couple of weeks. If it is feasible to run the club night, we will reinstate the pre meeting ride. I will keep the website up to date so keep an eye on it as well. Gordon
There are still no official club activities coming up in the foreseable future. With the current relaxation of the rules, I would rcommend that you all visit the BMF website and read through the recommendations on riding by The Coalition of Motorcycling Organisations, which the BMF is one,using the link provided on the BMF site. Its only common sense really but at least if you are stopped you can say you are following proper guidlines. Lets hope we can all get together before too long. Gordon
Another month has passed by with no official club activities, except for Colin's daily news. Clearly we will not be able to hold our club night at the Alma this Wednesday June 3rd, and we have nothing planned for the club at the moment.There have been some interesting anecdotes amongst the daily drivel, and a lot of interest in visiting some of the places mentioned within the "confessional tales". There has also been some photos of some nice bikes, and shirts! Keep the stories coming in, because if nothing else it has revealed some interesting behaviour of some of more elderly and respectable members in years gone by. I'm admitting to nothing but I will confess to having been a bit of a hooligan when I first got my hands on my old Rocket in 1965.
Now that there has been some easing of the social distancing rules for the rest of us, there is maybe some scope for a bit of riding, but its really down to commonsense. Personally I don't feel comfortable about going for a ride at the moment, despite the strong urge to do so. Sitting in the garden listening to the large numbers of bikes going past, particularly over the last couple of weekends, doesn't help. Don't forget we are affiliated to the BMF, and its useful to keep an eye on their website, www.bmf.co.uk for up to date information and advice. They warned of a two week purge on speeding, but it certainly hasn't made any impact on the traffic here.
Also for those of you with MOT expiring, Sean Davies Motorcycles has been up and running for several weeks, during the lockdown, and they always makes our club members welcome, so don't forget to support them over these difficult times. And they have an efficient collecting service locally if you cant get it to go! Lets keep our fingers crossed that things improve enough in the next few weeks ,we can all get back out on the bikes. Gordon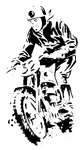 As you all know, we have been pubilicising this Pre-65 race series in our up coming events, because one of members, has been taking part, Julian Smith. Now I know one or two of you have been along to help with marshalling and by all the feedback, it sounded to me like a good day out, so I thought I should go along. The last time I attended a scramble was back in the days of Saturday Grandstand, with the likes of Jeff Smith, Vic Eastwood, Dave Bickers etc, and I remember being quite put out as we had to wait about for the races to fit in with the BBC. How things have changed!